News and Events
Chris Jeffries selected for Daily Record VIP List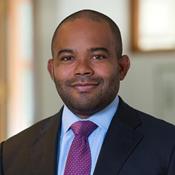 Kramon & Graham principal Christopher C. Jeffries has been named a 2019 Daily Record VIP List winner.
The VIP List recognizes successful Maryland professionals who are 40 years of age and younger. Winners are selected for their professional accomplishments, community service and commitment to inspiring change. The award will be presented at a reception ceremony at Gertrude's restaurant at The Baltimore Museum of Art in September. Kramon & Graham real estate attorney Brian Southard, was honored with the VIP award last year.
An accomplished trial lawyer with an active practice, Chris handles a full range of complex commercial disputes in trial and appellate courts, including breaches of contract and business defamation cases. He has substantial experience defending individuals and businesses in personal injury actions, including claims against property owners for alleged lead paint exposure.
Chris is a graduate of Leadership-Baltimore County. He has a keen interest in civil rights and other social justice concerns and has significant trial experience representing police officers for alleged civil rights violations. He is a member of the Center Stage Board of Trustees and serves on the Board of Directors of Charm City Youth Lacrosse. In 2018, Chris was named MVP by the Maryland Defense Counsel. He was selected by Lawyers of Color LLC for its inaugural "Hot List" of lawyers who are excelling in the legal profession. Since 2010, he has appeared on the annual "Rising Star" list published by Maryland Super Lawyers.