News and Events
Kramon & Graham Wins Baltimore Sun Top Workplace Award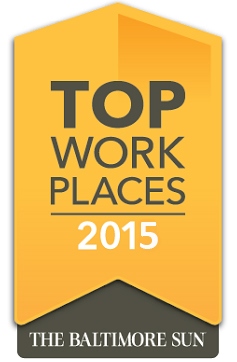 Kramon & Graham, a nationally recognized full service law firm, announced today that it was named to The Baltimore Sun Media Group's Top Workplaces list.
"We are very pleased to be selected again this year as one of Baltimore's Top Workplaces," said Kramon & Graham Managing Principal Dave Shuster. The firm has been recognized as a Top Workplace for four of the last four years. "We take great pride in our culture of professionalism and mutual respect, where each person is an integral member of the team. The fact that so many of our employees have tenures that span several decades here is a testament to the quality of our people and the true collegiality we have achieved."
Kramon & Graham is celebrating its 40th anniversary this year. Many employees have been with the firm from its early years -- thirty-six percent have been with the firm for more than twenty years; sixty percent have been with the firm for more than ten years.
"Kramon & Graham has cultivated a highly collaborative team environment," said Office Manager Cathy Marks. "Our staff is highly valued. They are essential to the firm's continued growth and success."
Top Workplaces recognizes Baltimore-area organizations that have created exceptional places to work. The results are based solely on results from a confidential survey of employees. Criteria include quality of management, employee confidence in the firms' strategic direction, communication and ethics of the employers, and training, appreciation, flexibility and benefits for employees.