News and Events
Kramon & Graham Receives Maryland Legal Aid's Equal Justice Council Trailblazer Award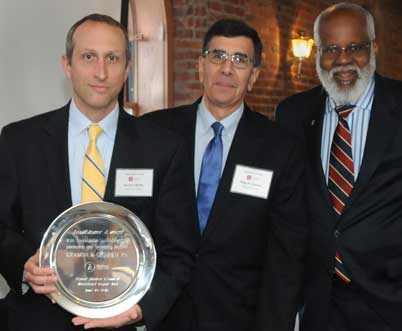 In recognition of its continued commitment to ensuring equal access to justice for all citizens, Kramon & Graham was honored today with the Trailblazer Award from Maryland Legal Aid's Equal Justice Council. Kramon & Graham Chairman Philip Andrews and Managing Principal David Shuster accepted the award on behalf of the firm at the 19th Annual Equal Justice Awards Breakfast.
The Trailblazer Award is the highest honor that a law firm can receive from the EJC. In response to the award, Mr. Shuster commented, "Maryland Legal Aid improves the lives of tens of thousands of Maryland's less privileged citizens every year. It is deeply gratifying and humbling to be recognized by Legal Aid for our contribution in support of this important mission."
For decades, Kramon & Graham attorneys have contributed innumerable hours and substantial resources to the EJC. Firm founder Andrew Jay Graham served as co-chair of the Equal Justice Council for more than 15 years and raised more than $3 million during his tenure. He was honored with the Exemplar of Equal Justice Award last year. Firm principal Lee Ogburn succeeded Mr. Graham as EJC co-chair earlier this year following his service as Law Firm Campaign Co-Chair for which he was presented the Champion of Justice Award. Mr. Andrews received Legal Aid's Executive Director's Award for his service as Law Firm Campaign Lead Chair from 2003 to 2008, and Law Firm Campaign Co-Chair from 2009 to 2013. In honor of its 40th anniversary last year, the firm made a substantial contribution to the organization.