News and Events
BTI Litigation Outlook 2019 Names Kramon & Graham to the Honor Roll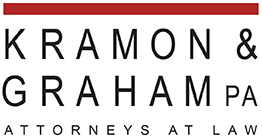 Kramon & Graham is pleased to announce that the firm has been named to the BTI Litigation Outlook 2019 Honor Roll. According to the publication, Honor Roll firms are those to which corporate counsel currently turn for their most pressing litigation needs. Based on interview responses from in-house counsel at the nation's largest corporations, Kramon & Graham ranks among the top litigation firms in the country for Complex Commercial Litigation, Complex Employment, and Product Liability.
"We are delighted that our clients have recommended us for BTI's Honor Roll," said David J. Shuster, Kramon & Graham's managing principal. "There is no higher praise than when our clients express appreciation for our counsel."
Kramon & Graham's appearance in the BTI survey reinforces the firm's recognition in other legal ranking guides published earlier this year, including Chambers USA, which gives the firm's Commercial Litigation practice a Tier One ranking for the fourteenth consecutive year. The firm's Insurance Coverage and Real Estate practices also earned recognition on this year's Chambers list, as well as nine of the firm's principals.
Five Kramon & Graham attorneys were named Baltimore "Lawyer of the Year" in the most recent Best Lawyers in America directory. Sixteen of the firm's attorneys are recognized in the guide.
To view the complete methodology used in compiling this year's BTI Litigation Outlook 2019, click here.