News and Events
U.S. News – Best Lawyers gives Kramon & Graham high rankings on 2018 "Best Law Firms" list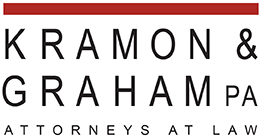 Baltimore, MD (November 1, 2017) -- The recently released U.S. News – Best Lawyers "Best Law Firms" directory recognizes thirteen Kramon & Graham practices in its 2018 law firm guide. The range of practices represents Kramon & Graham's full spectrum of service areas from litigation to transactional services, and includes health care, insurance, real estate, and government contracts.
In the related Best Lawyers in America ranking guide published earlier this year, Kramon & Graham senior principal Natalie McSherry was named 2018 Health Care Law "Lawyer of the Year." In total, thirteen of the firm's attorneys are recognized in the 2018 Best Lawyers in America directory.
The U.S. News – Best Lawyers "Best Law Firms" rankings are based on a rigorous evaluation process that includes the collection of client and lawyer evaluations, peer review from leading attorneys in their field, and review of additional information provided by law firms as part of the formal submission process. To view the complete methodology used in compiling the 2018 guide rankings, click here.