News and Events
Kramon & Graham maintains top-tier ranking in prestigious Chambers USA ranking guide
Amy Askew joins firm's growing list of Chambers USA-ranked lawyers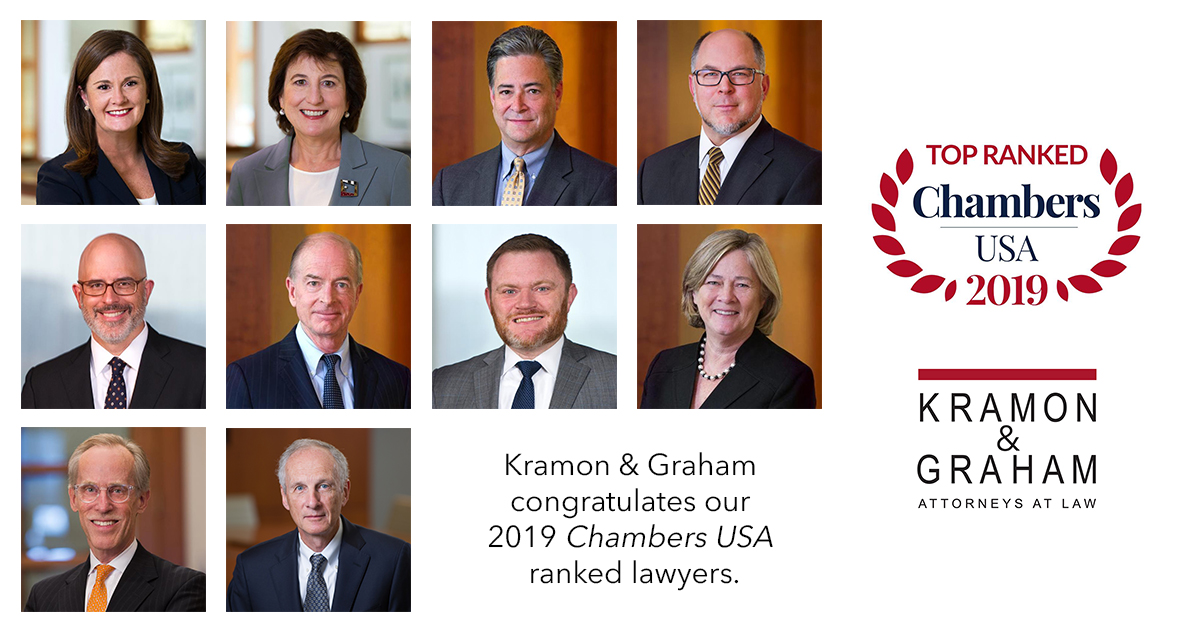 Kramon & Graham announced today that ten firm attorneys are recognized for legal excellence and client service in the 2019 Chambers USA legal ranking guide. More than 40 percent of Kramon & Graham's principals are recognized in the directory.
Kramon & Graham's Commercial Litigation practice holds its top tier ranking for the fifteenth consecutive year. The firm's Insurance Coverage practice maintains a Band 1 ranking for its outstanding client results. Led by Lee Ogburn, the firm has represented national property and casualty insurers in disputes involving more than $1 billion.
Also ranked is the firm's Real Estate practice, which Chambers describes as a transactional practice offering "experience across all stages of commercial property development, including the purchase, financing, leasing and sale of assets."
In this year's guide, founding principal Andrew Jay Graham earns his fourth "Star Individual" ranking, a designation reserved for attorneys garnering exceptional recommendations from clients and peers.
Kramon & Graham attorneys earning top rankings in the 2019 Chambers USA legal guide are:
Amy E. Askew, Litigation
Cynthia Berman, Real Estate
John A. Bourgeois, Litigation
Geoffrey H. Genth, Litigation
Ezra S. Gollogly, Insurance
Andrew Jay Graham, Litigation
Steven M. Klepper, Insurance
M. Natalie McSherry, Medical Malpractice Defense
Lee H. Ogburn, Insurance
James P. Ulwick, Litigation
Chambers USA is one of the most prestigious legal ranking guides in publication. Updated annually, the guide's thorough vetting process ranks attorneys based on technical legal skills, client service, astuteness, diligence, commitment, professional conduct, and other qualities.
Chambers USA is published by Chambers & Partners. A description of the selection methodology can be found at https://chambers.com/research/methodology.