News and Events
Kramon & Graham attorneys named 'Leaders in their Field' in 2018 Chambers USA
Firm's Litigation and Insurance Coverage practices receive top ranking in Maryland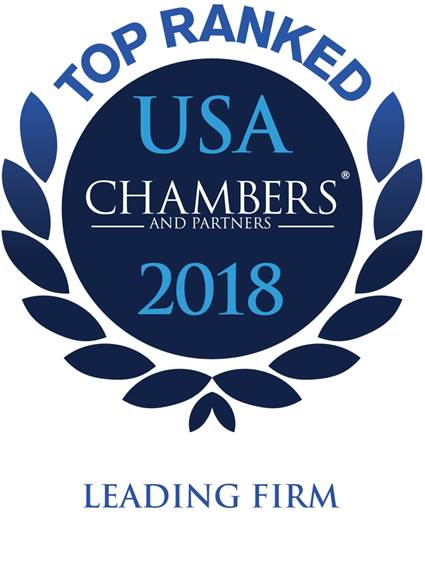 Kramon & Graham, a leading law firm providing litigation, real estate, and transactional services, announced today that nine firm attorneys have been recognized for legal excellence and client service by the 2018 Chambers USA legal ranking guide. With this year's additions, more than 35 percent of Kramon & Graham's principals are recognized in the directory.
For the third consecutive year, founding principal Andrew Jay Graham receives the "Star Individual" ranking, a designation reserved for attorneys garnering exceptional recommendations from clients and peers. Since 2004, Chambers USA has recognized Mr. Graham annually as a leader in his field. The list below reflects all Kramon & Graham attorneys who appear in the 2018 guide as "Leaders in their Field":
Cynthia Berman -- recognized since 2017
John A. Bourgeois -- recognized since 2007
Geoffrey H. Genth -- recognized in 2006, 2007, 2017, and 2018
Ezra S. Gollogly -- recognized in 2018
Andrew Jay Graham -- recognized since 2004
Steven M. Klepper -- recognized in 2018
M. Natalie McSherry -- recognized since 2010
Lee H. Ogburn -- recognized in 2018
James P. Ulwick -- recognized since 2006
Kramon & Graham is the exclusive law firm holding a Band 1 ranking for its outstanding Insurance Coverage, a practice area making its Maryland debut this year. Led by Lee Ogburn, the firm has represented national property and casualty insurers in disputes involving more than $1 billion.
Kramon & Graham's Commercial Litigation practice holds its top tier ranking for the fourteenth consecutive year. The firm's Real Estate practice is also recognized in this year's Chambers USA directory.
"We strive to provide the highest-quality representation in all matters and for all clients. Our clients rightfully expect, and we demand of ourselves, that we consistently deliver exceptional service and work product," said Dave Shuster, the firm's managing principal. "For lawyers dedicated to the practice of law, client expressions of appreciation and satisfaction are beyond gratifying. For that reason, it is with particular pride that we read the praise our clients and colleagues have shared with Chambers USA about our attorneys."
Chambers USA is one of the most prestigious legal ranking guides in publication. Updated annually, the guide's thorough vetting process ranks attorneys based on technical legal skills, client service, astuteness, diligence, commitment, professional conduct, and other qualities.
Chambers USA is published by Chambers & Partners. A description of the selection methodology can be found at https://chambers.com/research/methodology.